World Cup Workout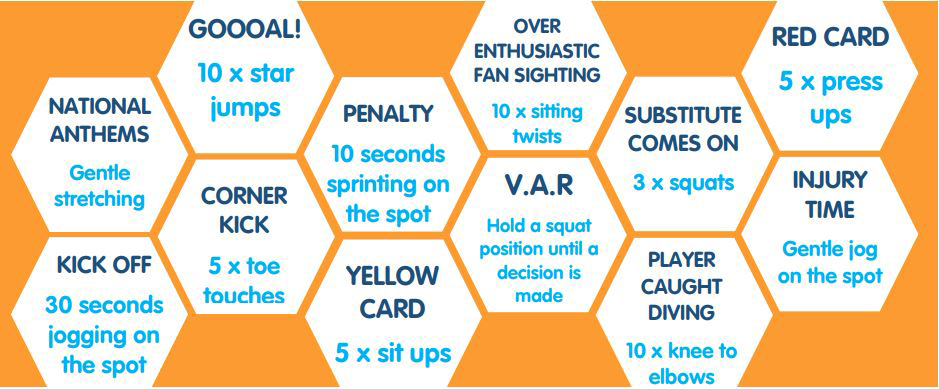 Have you been enjoying the beautiful British weather recently? The summer season has well and truly kicked off and so has the 2018 World Cup!
Although it's fantastic to celebrate and watch the beautiful game most nights, until mid-July at least, it's safe to say that World Cup fever has started as millions of football followers across the country become glued to their TV screens. It's vital you make a conscious effort to get up and move about to avoid becoming a couch potato!
If you've been sitting down for the majority of the day the best thing you could do for your health and wellbeing is to move around for a little while in the evening. That's why we've created a fun World Cup Workout that's full of quick and easy challenges to keep you moving without missing any of the action. It's like Football Bingo! For example, any time there is a corner kick, that's 5 x toe touches for you. Is the V.A.R being used? Hold a squat position until a decision is made! The best part is that you can do it in the comfort of your own home, you could even encourage your family and friends to join in too. Have a look at what other challenges are included here.
Looking for something extra to do to keep you active during half time? How about having a go at CSSC's 6 min chairobics exercise video! You could even give it a go while pre and post-match commentary is running in the background.
Still thinking about what to pledge? Why not make a World Cup related pledge like some of your fellow Civil Service colleagues;
'To continue to do at least 50 star jumps for every goal scored in the World Cup.'
Joanne Lloyd
'If I'm at home, I will do chairobics when watching the World Cup. If I go to the pub I will cycle!'
Bob Perrin
'Every time England score a goal in the World Cup, I'll run a mile.'
Steve Boddy
Make a pledge