Six Reasons To Get Involved
If, like many around the country, you're glad to see the back of 2020, then January should be a welcome sight. The New Year often brings hope of a fresh start, with new horizons. The promise of spring only a few months away and the lure of summer holidays can often help focus our attention forward to great times ahead, rather than back to a forgettable year.
"Overcoming exceptional difficulties"
Throughout 2020 the country has faced tremendous challenges together, not seen in over half a century. And the impact on our health and wellbeing of such a tumultuous year is still being felt by us all. Not least in the civil service and public sector, who continued to work valiantly throughout the year, overcoming exceptional difficulties.
Active Wellbeing 2021
And so, much as we did 100 years ago, when CSSC was conceived to help unite the civil service and overcome adversity, we are here again, to help the public sector face the challenges of our age and thrive, through activity, games and friendly competition, with Active Wellbeing 2021 (AW21).
"Employee wellbeing has never been more important"
Employee wellbeing has never been more important and both CSSC and CSHR, together with senior leaders from across the civil service and public sector, all recognise the importance of supporting individuals' physical and mental wellbeing. Which is why this year's Active Wellbeing is fully endorsed and supported by Angela MacDonald – HM Revenue & Customs' Deputy Chief Executive and Second Permanent Secretary.
"I'm excited to support the Civil Service's third Active Wellbeing campaign in January 2021, and I'm looking forward to participating. Staying active is one of the best ways to keep both your mind and body healthy, which is more important than ever after such a challenging year. Active Wellbeing 2021 offers a number of opportunities, so everyone can get involved, and make a difference to their lifestyle for the better. I'll be joining in by trying to get as much fresh air as I can in January and will be aiming to keep it up throughout the year, I hope that you'll join me in doing the same!"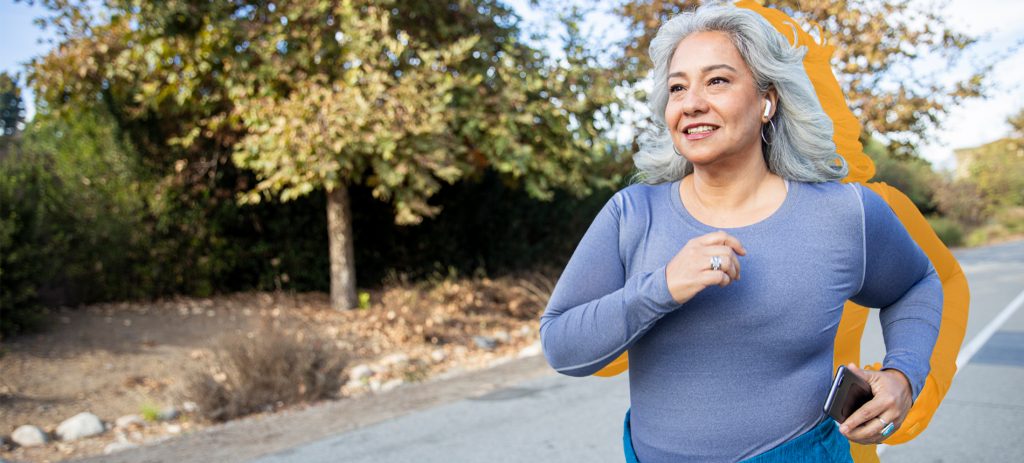 So why should your department get involved with Active Wellbeing 2021?
By promoting AW21 you're helping to raise awareness of employee's health and wellbeing. You're encouraging individuals to make healthy lifestyle choices and to take responsibility for their health, helping to sustain and improve your workforce's happiness.
Employers who care for their team's wellbeing see an increase in productivity and mental wellbeing. By encouraging healthier habits, they're more likely to have happier, more motivated staff, boosting morale and performance and lowering absence and sickness.
Ensuring your department gets involved will show a commitment to help deliver the civil service's third strategic priority for health and wellbeing 'to encourage a healthy lifestyle'
All AW21 initiatives and resources recognise and address some of the multiple difficulties impacting the civil service, due to the Coronavirus. Including the recovery from COVID-19 and the challenges of working from home remotely.
Active Wellbeing resources and initiatives target those most inactive with friendly, beginner level and inclusive opportunities for all .
For 2021, this campaign focuses on sustained behavioural change, and supporting colleagues to develop new, healthier habits over the 30 days and beyond.