The world outside your door
We know it's good for us and many of us got more of it during lockdown. With the return to work, how many of us will still get some each day? Of course, we're talking about getting out into the great outdoors… By Sally Hall
Over the different lockdowns, many of us were forced to change our exercise routines. Yoga bunnies found their studios closed, gym addicts worked out at home and parents got out of the house each day to keep themselves and their kids from driving each other mad. Indeed, this trend was so strong that it was noticed by the Office of National Statistics (ONS).
The ONS studied how lockdowns altered our exercise habits – and the results are surprising. With 30 per cent of us asked to work from home, the ONS reported that an amazing 60 to 70 per cent cited exercise as the primary reason for leaving the house. Out of this number, 30 to 40 per cent visited local parks or playgrounds and between 10 and 20 per cent visited beauty spots and tourist attractions.
Those who found they could get out more, however, reported that being outside helped improve and maintain good mental health, as well as fostering increased fitness. Nine out of 10 people said they agreed that being outdoors boosted their mental health and wellbeing. Luckily, this is not just a feeling but scientific fact.
Researchers at the University of Exeter found that those who allowed themselves 120 minutes per week in nature benefited from an improved sense of wellbeing. Published in Scientific Reports, the study found that just 20 minutes per day, or two hours per week, had benefits – though interestingly, less time than this did not.
"It's well known that getting outdoors in nature can be good for people's health and wellbeing but until now we've not been able to say how much is enough," the study's lead, Dr Matt White, explained. "The majority of nature visits in this research took place within just two miles of home so even visiting local urban green spaces seems to be a good thing. Two hours a week is hopefully a realistic target for many people, especially given that it can be spread over an entire week to get the benefit." Given that just 20 minutes per day can improve mental health and wellbeing, how can we incorporate time spent outdoors into our daily routines?
Try Rambling
One way is to ensure that, even if you live and work in mainly urban areas, you choose a route that crosses a local park or green space on your way to work, to the shops or on the school run. Weekends can allow for more exploring, and you might be able to get a little further afield. Circular walks are great for exploring a new area and ideal for getting you back to a convenient car park, bus stop or train station.
You can join the Ramblers' Association through CSSC's discounted membership and find inspirational walks to try. From easy local walks to exploring Ministry of Defence land, there's something for everyone. Ordnance Survey has a wonderful range of maps and guides to help you explore and never get lost.
You might decide to join a group walk, where you could meet like-minded people. You can also enjoy the gardens and grounds of properties owned by English Heritage (English-heritage. org.uk) and The National Trust (nationaltrust.org.uk), which between them conserve palaces, houses and even castles and in whose extensive grounds you can walk. Many are accessible, have special exhibitions inside the houses – great to escape showers and warm up a bit – and of course, most have fabulous cafes and gift shops.
Join CSSC to get some amazing benefits, such as free entry to Heritage sites, reductions on ordnance survey, ramblers offers and many more.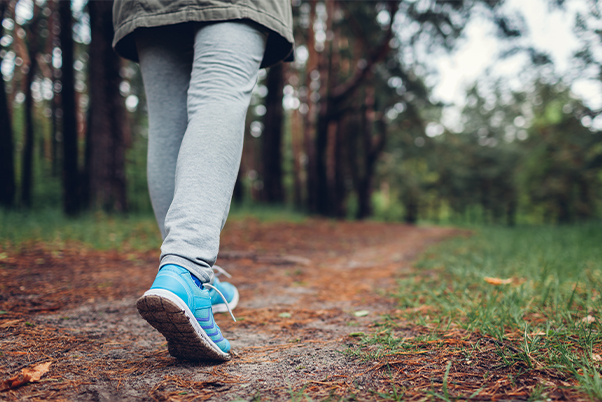 Try jogging and running or cycling
If you want a slightly harder workout, jogging and running have flourished since the 2012 London Olympics and many of us have started, or increased, our running regimes. The NHS reported that around a million people downloaded its fitness app, Couch to 5K, in lockdown– a 92 per cent increase on the previous year. If you want to get into running you need a pair of great running shoes. Get advice and ensure a good fit, supported insteps and ankles and a stable sole to prevent overpronation.
Another great way to explore the country is to get cycling. If your experience thus far is wobbling around the park as a child, or some BMX moves as a teen, it might be time to rethink this great form of travel and exercise. With an increasing number of UK councils improving their cycle lane network, it can be a safe and enjoyable way to take in more miles than you could on foot. Consider buying a decent bike. A helmet is the most important piece of gear – with CSSC great offers, you won't have to skimp on this and can easily replace it if it gets a knock. Dress appropriately, pack some waterproofs and you're all set.
Cycling UK (see our discount, along with other cycling offers on the website) has lots of great tips for how to get started, building up your stamina, what to wear and where to go. And indeed, cycling is a great method of commuting when you do return to work. Congestion cost this country £6.9 billion last year and road users lose 115 hours per year in traffic, so do yourself and the environment a favour! And if, like many cyclists, you prefer the social side of biking, there are loads of communities to join to share tips and routes for getting the most out of your exercise, like CSSC's national cycling Facebook group (CSSC members only).
Try Nordic Walking or Forest Bathing
Many of us love being among trees and discovering a different kind of calm experiencing the wind through the leaves and the quality of the dappled sunlight. They are amazing places to take children and grandchildren, with flowers to search for and birds to identify, and they are also great for dog walking.
The Japanese enjoy a more immersive form of enjoying forests called 'shinrin-yoku', which means 'forest bath'. One is encouraged to take in the trees through all the senses, to literally bathe in the atmosphere of the forest. The book Forest Bathing: How Trees Can Help You Find Health and Happiness by Dr Qing Li, discusses how this concept promotes health. Dr Qing Li, who is one of the world's most eminent experts in forest medicine, says forest bathing can reduce stress and high blood pressure, boost your mood and strengthen your immune response. He explains: 'There are many different activities you can do in the forest that will help you to relax and to connect with nature … forest walking, yoga, eating in the forest, hot spring therapy, T'ai chi, meditation, breathing exercises, aromatherapy, art classes and pottery, Nordic walking and plant observation. It doesn't matter how fit – or unfit – you are, Shinrin-yoku is suitable for any level of fitness.'
Check out CSSC's dedicated walking page for walking tips, savings and events.
Embrace the Cold
Even as we are now into the colder months, it helps your wellbeing to continue outdoor trips. In addition to all the other benefits, as the days draw in the opportunity to get some daylight can help reset our circadian rhythms – and the experts agree that this is also the best way to stave off the seasonal affective disorder. Of course, those in countries where days are short and weather cold laugh at our tendency to hunker down indoors in the winter. In Norway, the concept of 'Friluftsliv', or open-air living, is surprisingly embraced, even as the mercury plummets.
Incorporate exercise on your way to indoor activities such as trips to a concert, the theatre, cinema, and exhibitions. Walk or cycle there, warm up for a while, then have dinner and enjoy a walk home under the stars!