Fitness Trends for 2021
Over the last year we have seen a major shift in how, when and where we exercise. We've searched the latest fitness trends for 2021 that we can look forward to in the year ahead. Here you will find our top eight.
Digital Fitness
At the moment you can't go to the gym but you can get outside and challenge yourself to enter one of the many virtual races, which are really popular for 2021. This may be running races of a 5km, 10km, half marathon, marathon or ultra-marathon distance, a cycling challenge, or a more general fitness challenge, like beating your 5k time. Keeping going this year, by focusing on fitness and self-improvement and partaking in virtual challenges, will have you in good stead for when you're able to race again.
As a CSSC member, you are able to get financial support for virtual events, see more information here.
Online training is here to stay, whether via a screen on your spinning bike, an interactive TV in your home gym, or an online class viewed on your mobile or laptop. These offer a more flexible approach to fitness that works with your lifestyle. Check out the CSSC offers with FiiT.
Getting Outdoors
During 2020, getting outdoors to exercise gained momentum for obvious reasons. Lockdown saw a rise in park-based boot camps. The outdoor fitness trend is set to continue into 2021, as people enjoy mixing up their fitness routine with getting out in the fresh air and all the health benefits it brings.
This could be walking, hiking, jogging, trail running, cycling, wild swimming and many more. People are only going to continue immersing themselves in nature for 2021. Even just 20 minutes outside, once a day, is proven to lower stress and improves your mood.
Strava have said, that walking and hiking have become top new activities, as it's such a good way to enjoy low-impact fitness and explore your local area and all that nature has to offer, whilst boosting your mental health. Check out the National Trust's best 100 walks in Britain.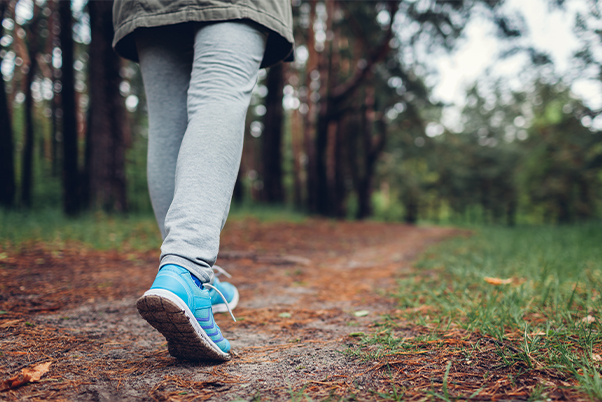 Home Gyms & At Home Workouts
It's no surprise that home fitness is now more popular than ever. The ongoing challenges faced by gyms, leisure centres, spas and studios, throughout last year, have forced us to reconsider how we exercise and stay in shape.
Despite the numerous benefits of public and private gyms, such as expansive equipment, expertise and companionship, having to re-evaluate our workouts has actually revealed some helpful benefits.
At home you have no gym subscriptions or wasted travel time. You can avoid any health concerns of a public gym space, plus you can work out at a time and pace that suits you. For some, it allows them to exercise without fear of embarrassment or the stress of a competitive, public environment.
With the expansion and development of higher end 'at home' and online fitness technology, equipment and classes, we'll continue to see a greater take up of exercise in the comfort of your own home. It looks like home fitness is here to stay and will continue to be a dominant trend this year. Here we have Yoga and Pilates home workouts for you to enjoy.
Remote Personal Training
If you lack motivation, try working out with a personal trainer on an online platform. Remote coaching allows members to work with a personal trainer or wellbeing coach in a one-to-one setting. They will work with you to develop a programme specifically tailored to you and what you're hoping to achieve, at a flexible time to suit you and your lifestyle.
Your trainer should carry out an initial consultation, including guidance on how to do the exercises properly. They can review your progress along the way and make any recommendations for improvement.
There are many benefits to training online with a professional, we think this flexible style of fitness training will become more popular in 2021.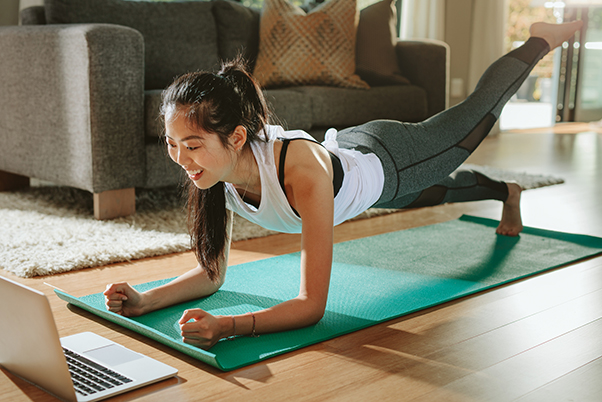 Open air gyms
Exercising at an outdoor gym provides all the physical benefits of an indoor gym but can also provide vital exposure to sunlight, which increases the levels of Vitamin D in our system. Plus, studies have shown that physical activity outdoors lowers blood pressure and heart rate. Also getting fresh air may help you sleep better!
There are lots of outdoor (green) gyms through the UK. Most outdoor gyms have a range of facilities available, including some weight machines, hanging bars, step equipment and lower body exercisers. Find out if there is one in your area. Make sure you check the current Government advice on outdoor gyms and exercise areas.
Some forest locations throughout the UK have added fitness trails, which are a series of wooden exercise stations alongside jogging or walking trails. These should include simple instructions on how to use them for the best results in terms of improving balance, strength and co-ordination.
Micro meditation
Try a 'less is more meditation/mindfulness' in 2021. Micro meditation can be practised several times a day for 1-3 minutes at a time. Periodically through the day become aware of your breath, if the mind wanders gently come back to focus. This can be done little and often, for instance whilst making your morning cuppa, in between online meetings, during the day or waiting for your dinner to cook in the evening. 
Give CSSC's guided mindfulness meditation a go. It's a great starting point if you're new to meditation. Studies have found as little as three minutes of meditation a day can have positive benefits.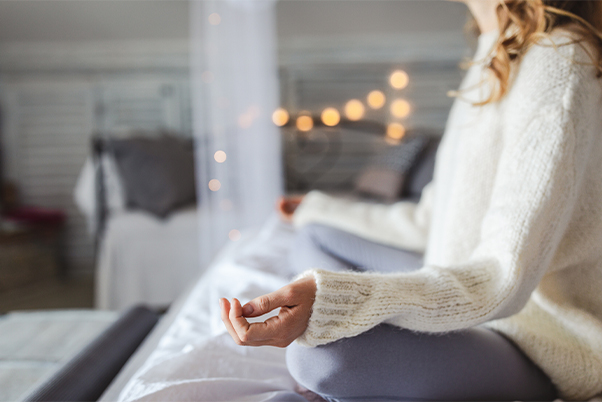 Full Day Training
As a general goal, aim for at least 30 minutes of physical activity every day. However, if you wish to work out for more than one 30 min workout per day, 'full day' training may be for you.
Full day training divides your programme into several smaller workouts – think yoga when you get out of bed, a walk or run at lunchtime and an explosive HIIT workout in the evening. It might sound full-on, but it actually makes regular training easier to accommodate in everyday life, and it's easy to develop a routine. If you work from home, it's even easier to fit these smaller workouts into your lifestyle.
Quick Fire Workout
With daily schedules ever more stretched and if you only have time for one short workout, why not try a 'micro HIIT' workout?
This would consist of a short burst of high intensity interval training than can range from 3 minutes to 20 minutes (the recommended maximum time, three times a week). FIIT offer workouts as short as 10 minutes, ranging from cardio and strength, to rebalance training, which offers a quick burst to break up your day. There are also many apps, such as the 7-minute workout challenge.